All You Need to Know About Local SEO for Businesses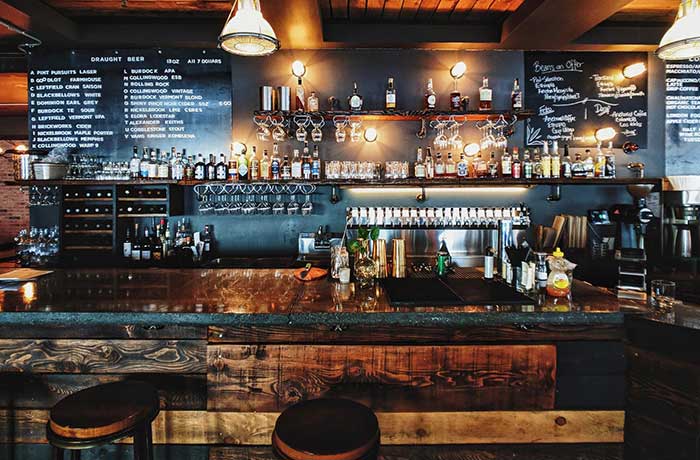 What is local SEO?
Local SEO is a website optimization tactic that enables businesses to target specific audiences in their area.
If you've ever asked yourself "What is local SEO?" and "How can it help my business?", this blog post is for you.
Together, we'll explore how focusing on a narrow geographical area can help you generate more leads and, ultimately, improve your conversion rates.
Compared to general search engine optimization (SEO) practices that can improve your national and international ranking, local SEO helps you rank higher in your own "hometown".
Plus, it can help you increase traffic to your website AND convert it into offline sales.
This article will explore why local SEO is vital for businesses, and show you how to make your website relevant for local audiences.
Why is local SEO important?
Local SEO is golden for businesses that conduct their activity in a physical location.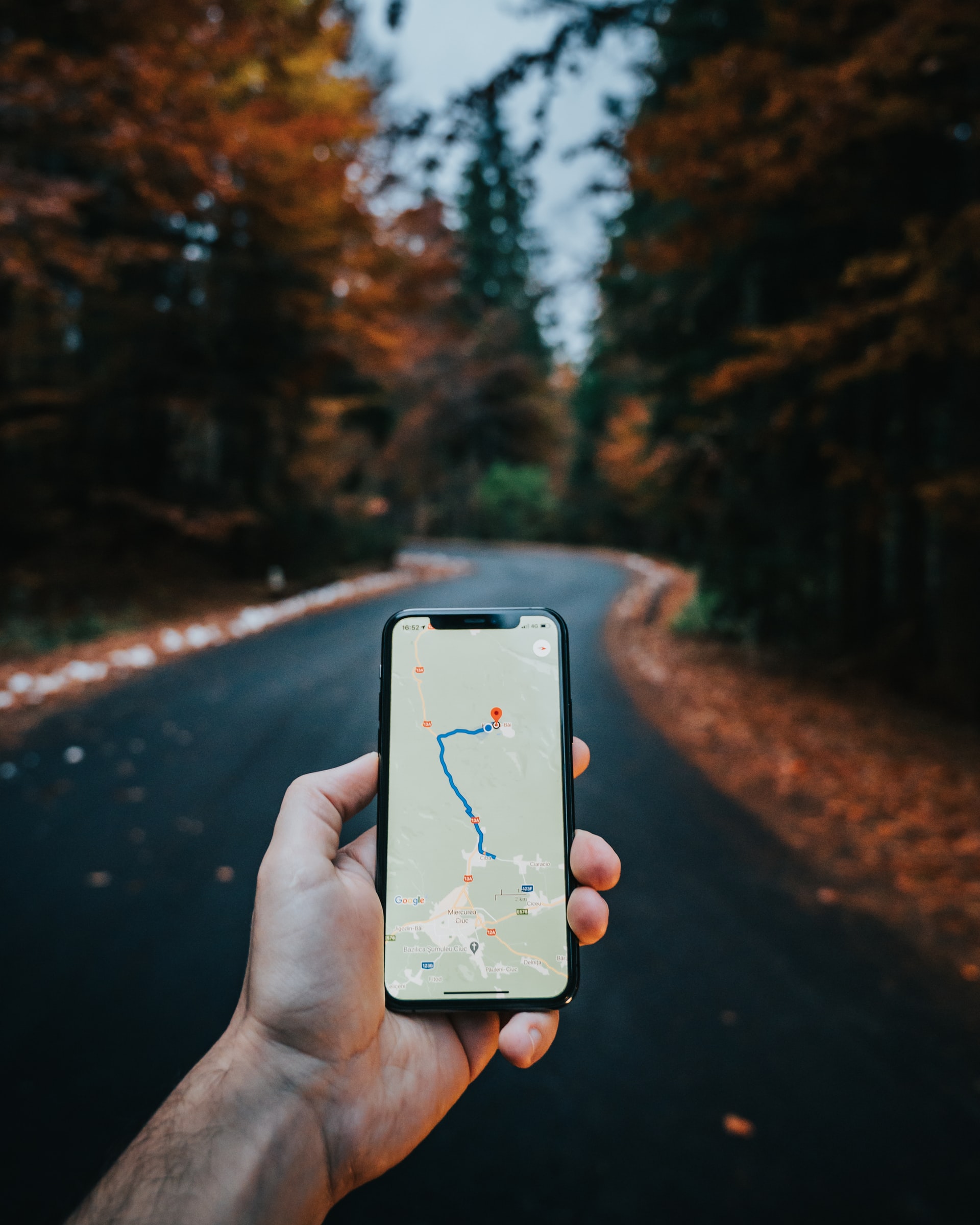 Coffee places, grocery stores, restaurants, medical practices, hair salons, law firms, and countless other brick-and-mortar businesses depend on whether or not their clients can find them.
Even companies trying to attract new talent or partnerships need to make sure their offices are easy to locate.
In essence, there's no physical business that couldn't benefit from having a locally optimized website.
You might be wondering what good local SEO does when social distancing has many businesses closed or operating at reduced capacity.
Well, due to lockdown measures, more and more people have redirected their attention towards local businesses.
Consumers seem to prefer local businesses to national retailers because they want to support their communities.
While these reasons alone should be enough for you to consider improving your local strategy right away, here are x more reasons to do so.
1. Local keywords help you rank higher
To rank higher in search queries, you need to optimize your website for user intent through targeted keywords.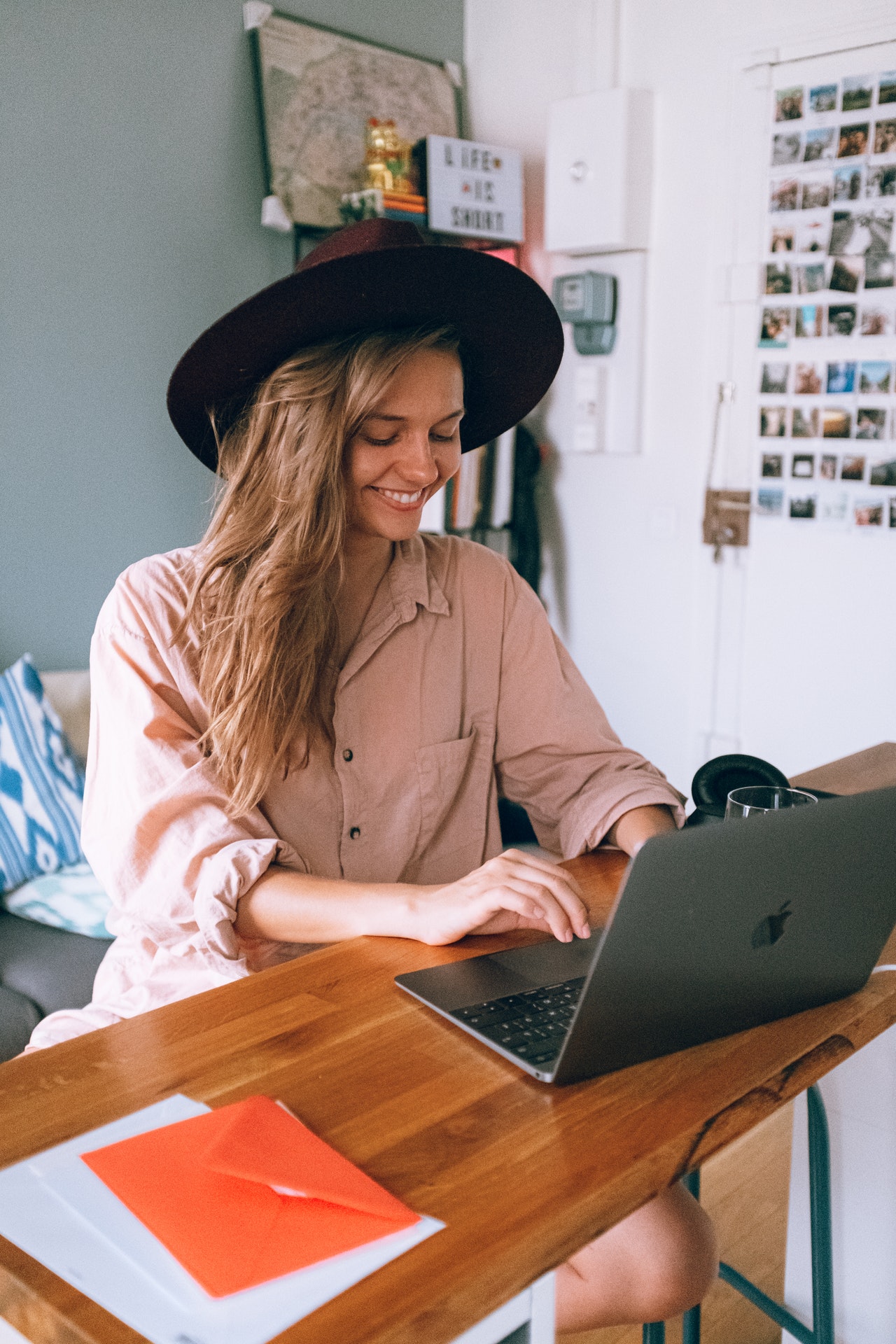 While the competition for broad keywords is stiff, local keywords provide more opportunities for businesses to rank higher where it counts.
In simpler words, local SEO helps you compete with fewer businesses, but more relevant ones.
In the past year, almost 50% of Google searches have been related to local information, according to a research study conducted by Social Media Today.
When it comes to finding local businesses, 86% of consumers admit to relying on the internet.
Let's take the example of Neox Marketing.
As a local SEO company, we can improve our ranking results by targeting local keywords such as "SEO Gatineau" instead of going for broader terms such as "SEO services".
While our agency does have clients across the country and even worldwide, focusing on local businesses gives us the chance to drive more traffic.
Plus, a local keyword such as "SEO Gatineau" has less competition. Thus it's more accessible.
So, the more focused your keyword optimization is, the better your chances at getting found.
2. Reach customers who are ready to buy
Statistics show that local mobile searches are ultra-fast to convert.
According to Think with Google, 76% of users who search for local businesses actually visit the store or venue in 24 hours.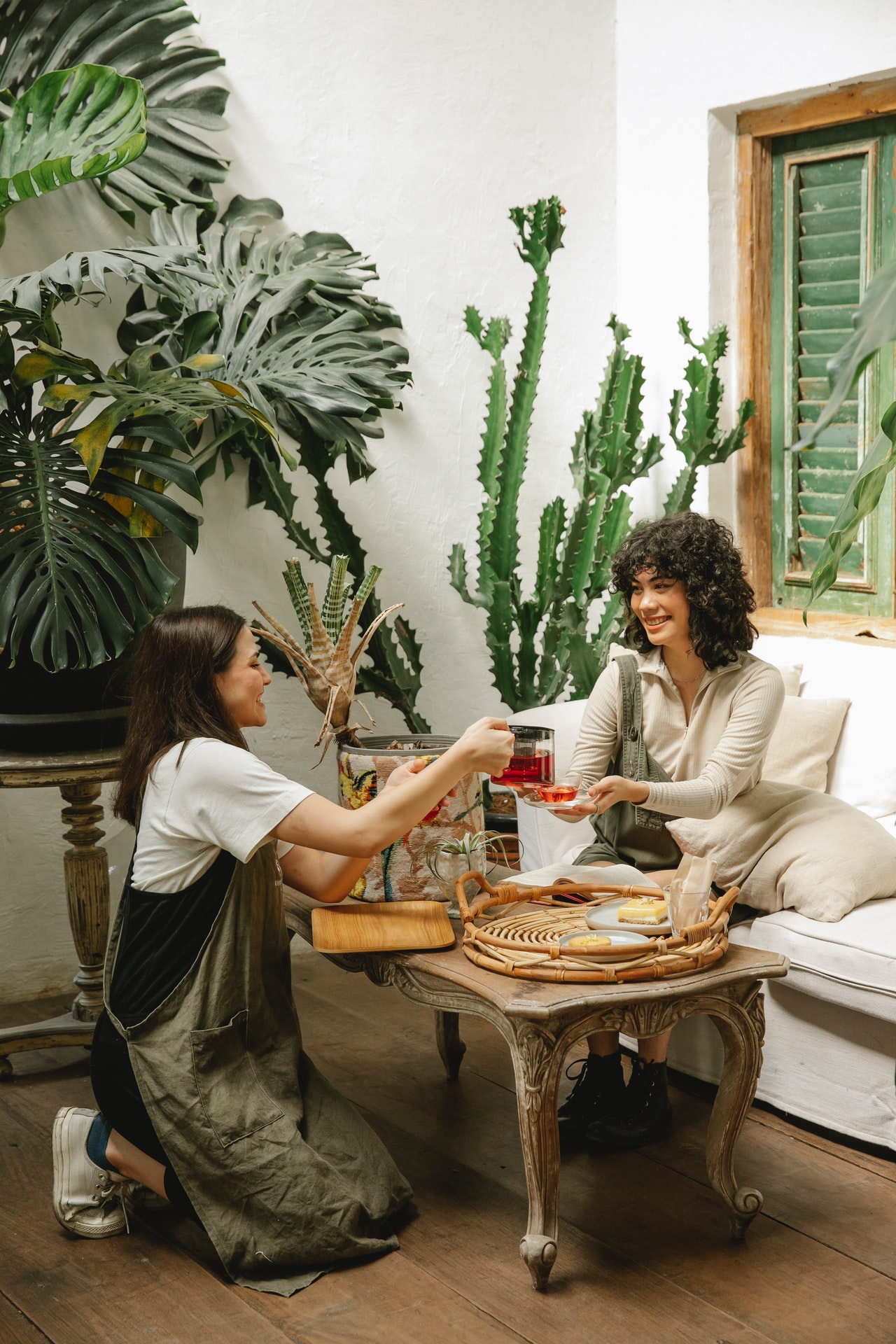 And out of all the local searches, 28% actually close with a conversion. That's staggering.
In comparison, only 7% of general search queries end up with a purchase.
That means that by showing up on users' maps you're not only increasing your exposure, but also your chances of selling.
3. Get more qualified website traffic
Through local SEO, you can reach out to customers taking into consideration both intent and proximity.
Through a clearly defined local optimization strategy, you can increase your chances of having your link clicked because user intent is more explicit.
It's like fishing with the right bait, ensuring you boost website traffic with conversions in mind (the big catch).
Because what good can high national traffic do if, for example, you own a barbershop?
Let's be fair: no one is going to drive 100 miles to get a trim, no matter how great a stylist you are.
So, be sharp with your aim and focus your energy on gathering relevant website traffic.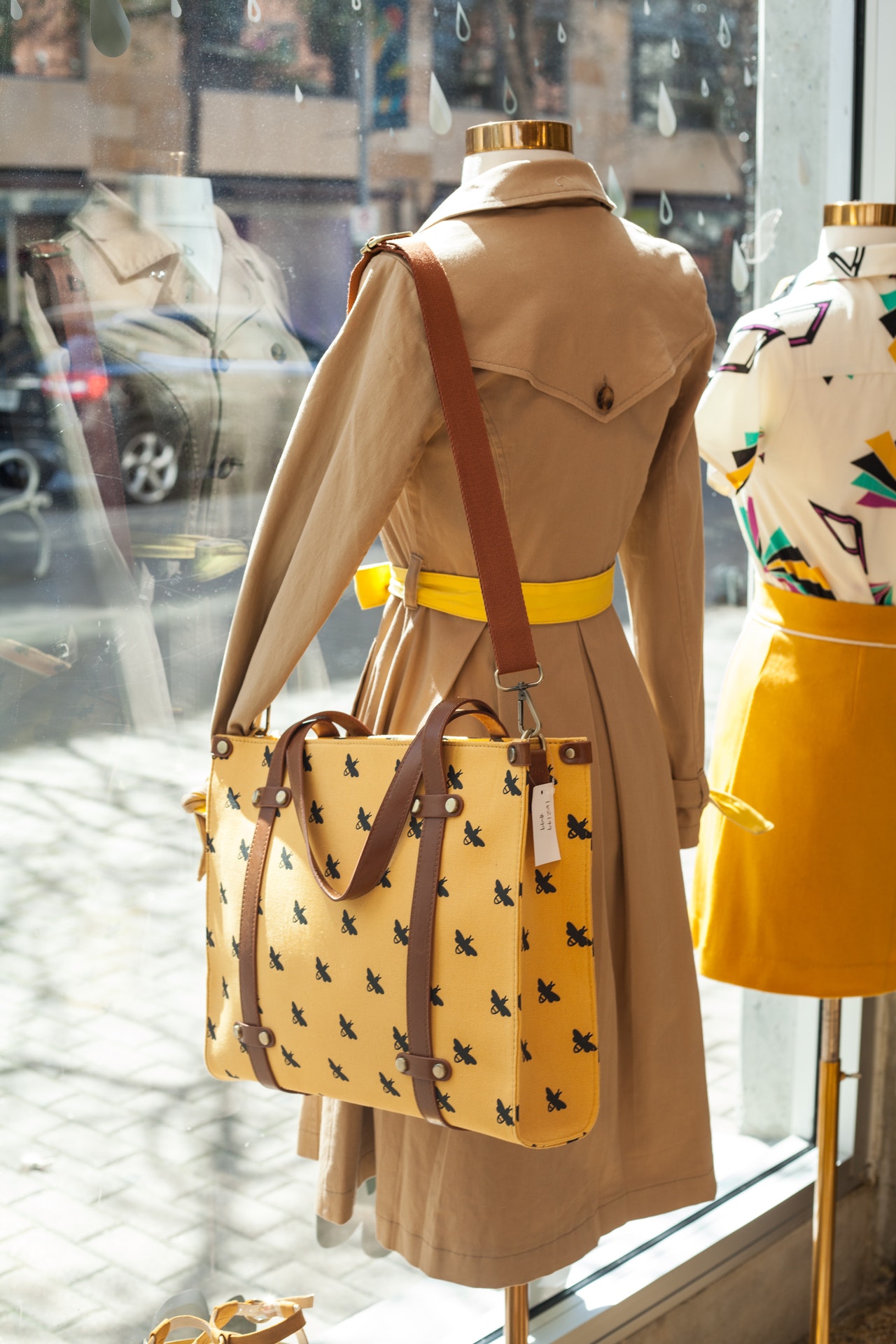 4. Local shopping trends are on the rise
While local businesses have been seriously affected by the public health crisis, almost two-thirds of consumers prefer to shop in their local communities.
Some decide to go local out of convenience, while others do so as a sign of support for the businesses affected by the pandemic.
The promise of better customer service is also a hook for lots of clients, and having custom-made and even unique items is what attracts others.
Some stats even show that almost 90% of customers keep their travelling time under 15 minutes for grocery, clothing, and gas.
It's yet another substantial reason for you to start adding local keywords to your optimization to-do list.
How to optimize your website for local search
1. Activate your Google my Business
Google my Business is a free tool that helps you manage and promote your local business on Google.
In short, it enables you to fine-tune and enhance the efficiency of your existing business profile by transforming your listing into a relevant marketing tactic.
To better understand how it works, you must first distinguish between Google my Business and your Google Business profile — these are two distinct, yet connected elements.
Your business profile exists no matter if you decide to take hold of it or not, while Google my Business is a tool that needs activation to function.
Here's an example for you to better understand the difference.
Let's say that a user types in "SEO Gatineau" in the Google search bar.
Google will return a list with several local SEO companies. What you see as their description is their Google Business profile.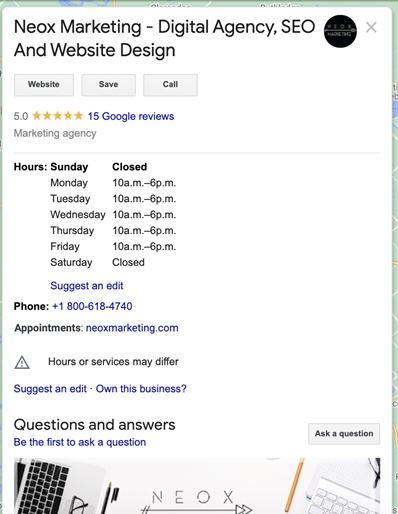 However, these local SEO companies can tweak their Google Business profile by claiming their Google My Business tool.
And you can too.
To activate your Google my Business, go to this designated page and click on "Manage my Business".
A new page will open, and you'll be asked for your business's name to redeem your profile and start optimizing it for local searches.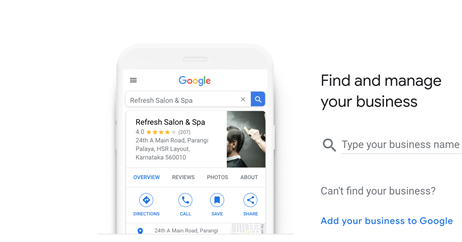 Once you activate Google my Business, you can take your business listing from a passive display of information to engaging, multi-functional content.
Here are the best practices for optimizing your Google my Business:
Engage with customers by responding to reviews, answer questions, and even by publishing posts.
Add your complete business information and make sure to include contact information, opening hours, the link to your website, attributes, products and pricing, and other relevant details.
Incorporate relevant local keywords into your Business Profile (in your description, answers you offer to clients, reviews etc.).
Create Google My Business posts that answer customer needs.
Mention any discounts and offers you currently have.
Organize local events to attract more people to your venue.
Update your information as often as needed to make Google's algorithm happy.
2. Improve your internal website structure
Easy website navigation is essential for boosting your SEO ranking and helping users seamlessly journey through your website.
That's why your website structure can make or break your local success.
Fortunately, how you build your internal linking strategy can save you from hitting a dead end.
Internal links build bridges between different pages of your website and various forms of content.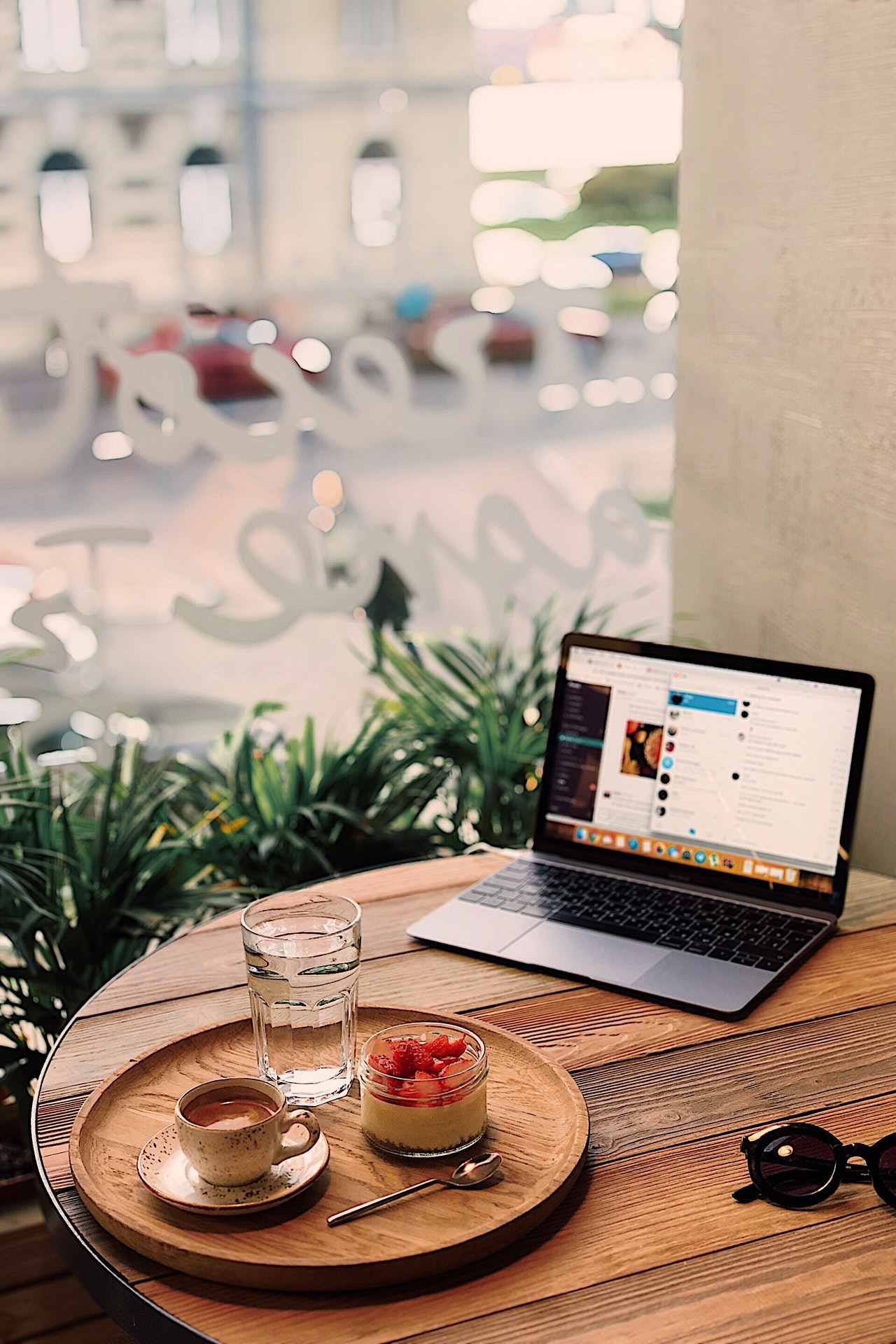 In return, search engines can crawl more easily through these layers of pages — and the more silos of content they find, the better for your domain authority.
Pro tip: Use anchor text and avoid linking to top-level pages that are also accessible from your menu.
Instead, guide your users deeper into your site structure, to various content pieces that have local relevance.
Careful though, only use links that make sense in their given context and provide real help to your users!
3. Generate locally relevant content
Content marketing can help you become a local authority — if you share content that tackles relevant topics for your community.
While addressing a broader audience through general topics may get you more traffic, focusing on local content will improve your conversion results.
Think of your buyers' journey (awareness -> consideration -> decision) and create educational content that speaks about more than just what your business sells.
Try to tackle local problems, concerns, and questions and connect them to your business' specific.
For example, if you're a local sports shoes store, consider creating articles covering the best running routes in town.
Let's take another example, closer to home.
As a local SEO company from Gatineau, our SEO strategy is both national and local.
So, we try to optimize our content for keywords such as "SEO services" and "SEO Gatineau".
Given this layered approach, our content can cover both national subjects, and local topics such as "Search trends in Gatineau".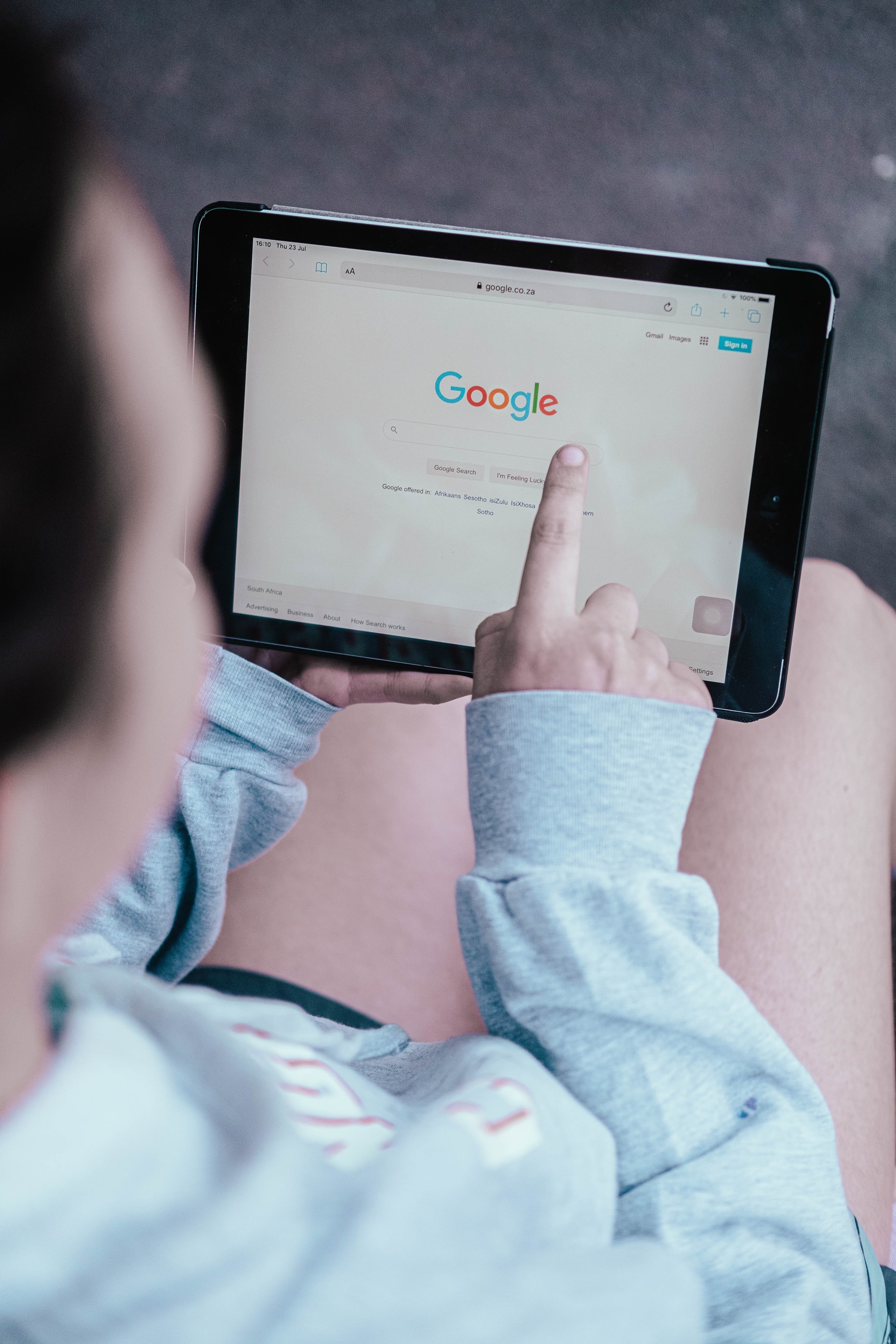 4. Optimize your URL, headers, title tags, alt-text, and meta descriptions
If you want to get found in search engine results pages and rank higher for local searches, you need to optimize each of your pages.
Each web page is indexed and crawled by Google's algorithm that searches for specific keywords in URLs, meta descriptions, alt-texts, headers, and title tags.
Here are our recommendations on how to optimize each:
Make your URLs short and concise, focusing on your local keywords; don't include numbers.
Create engaging and clear meta descriptions that contain the exact keyword you're optimizing for.
Attach alt-texts to all your images and videos and optimize them with different descriptions of your long-tail keyword.
Use H2 headlines and add your keywords or their synonyms if it reads natural.
If this type of optimization sounds like a daunting task, maybe you could benefit from reaching out to a local SEO company.
5. Team up with local influencers
Influencer marketing is one of the most efficient types of promotion you can choose to expand your local reach and get relevant inbound links.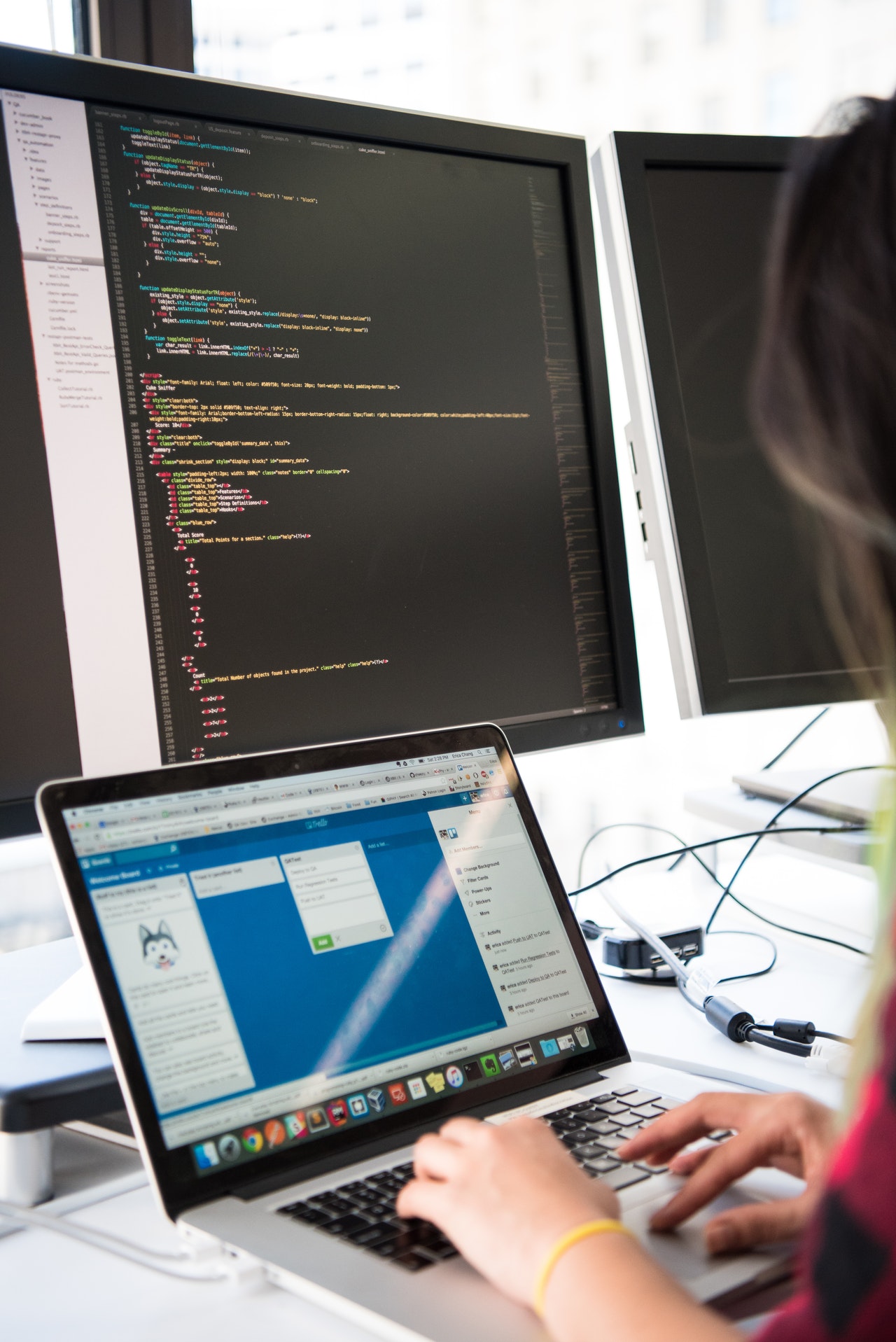 By working with local opinion leaders, you'll leverage their image and tap into an audience that's already warm.
Influencers can act as megaphones for your messages, amplifying your messages and infusing your products or services with their authority.
What's even more important, is that influencers will generate natural backlinks to your website, helping you rank higher.
Plus, chances are that their followers will also share your link further, adding up to your local optimization efforts.
To increase your odds at generating more backlinks, you can ask influencers to open contests in your name, or even offer giveaways.
But for your campaigns to work, you first need to make sure you collaborate with the right influencers.
You can find influencers with the help of a tool such as Upfluence, or you can contact a local SEO company to help with the selection.
6. Make your website mobile-friendly/responsive
Mobile searches make for a substantial slice of local queries. And it's no wonder since 52% of all internet traffic results from mobile devices.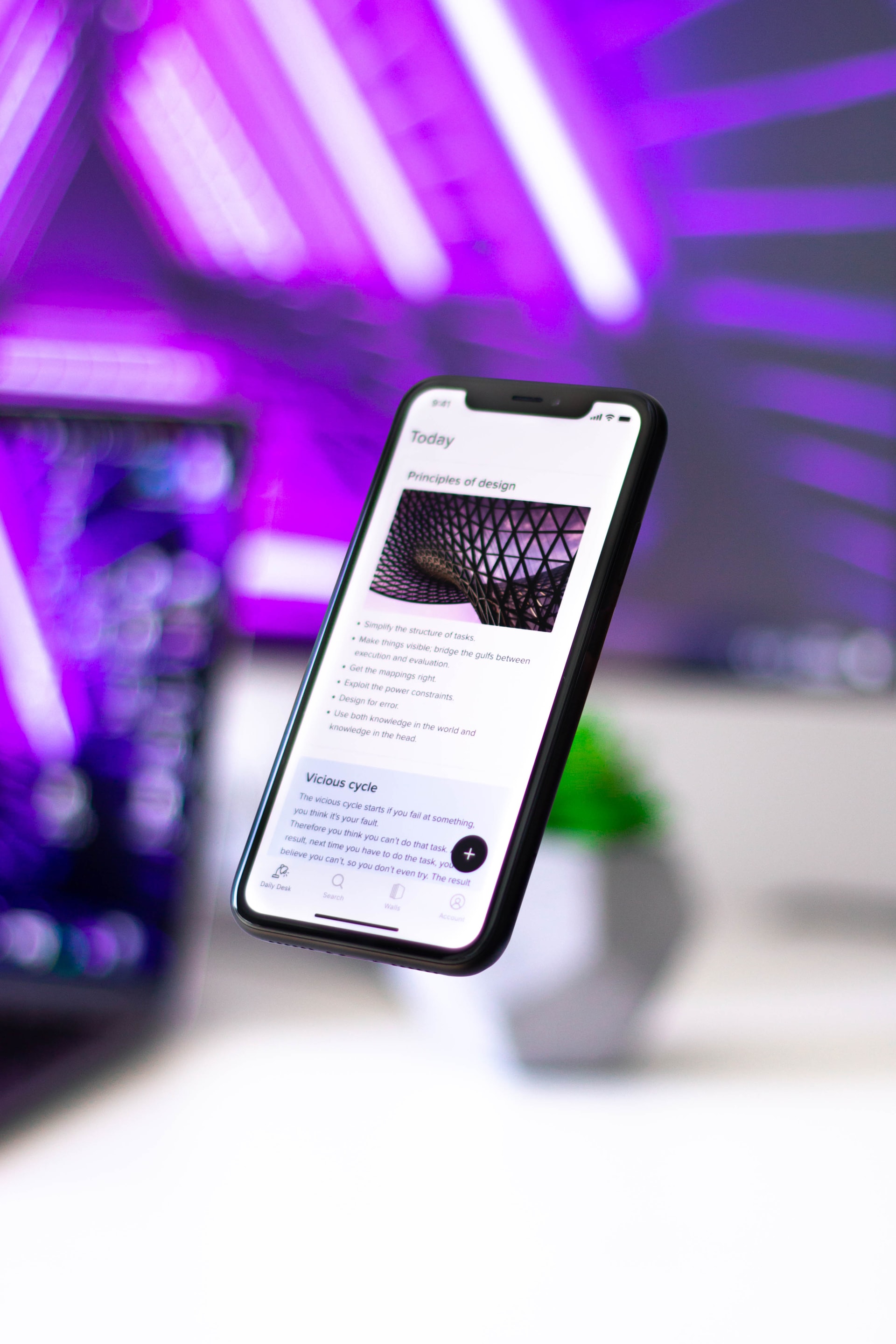 People carry their phones with them everywhere and, whenever they want something, they conduct a search.
Making your website mobile-friendly and responsive is a necessity for local optimization.
Here are a few tips on how to make sure your website is mobile-friendly:
Opt for a simple design.
Create visible buttons that are easy to click on.
Create a logical web structure, and make information easy to find.
Focus on website speed.
Make sure your texts are readable, with clear, large fonts.
Use modern technologies for web development.
By following these basic guidelines, you'll make sure that any mobile user can easily access your website and find the information they're looking for without hassle.
Otherwise, you'll practically shut off your business for more than half of those who land on your page.
If you're unsure how to optimize your website for mobile, consider contacting a local SEO company.
Local SEO companies can better understand your local needs, and they can offer you more affordable deals.
Need help creating a local SEO strategy for your business?
With a robust local SEO strategy, you can overcome any economic turmoil, and venture into clear waters.
If you need help optimizing your local efforts, Neox Marketing is here to help you.
Together we can make the most of your local audience and help you achieve all your goals, one by one.
Contact us today, and let's make it happen!